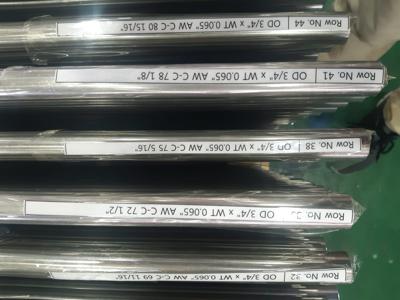 Seamless cold-drawn stainless steel heat exchanger and condenser tubes.
The most common seamless stainless steel tubing is the 300 series of alloys, which are available in varieties of high-performance, corrosion-resistant types and sizes. These stainless steel alloys most commonly include chromium, nickel, and molybdenum, and are ideal for heat exchanger tubing because they are easy to maintain. have good corrosion resistance and can withstand high pressures and temperatures.
316 Stainless Steel provides the best resistance to pitting and corrosion of any of the austenitic (300 series) stainless steels. It is extremely ductile, with excellent strength at elevated temperatures. Seamless tubing can be produced with heavier wall thicknesses for mechanical applications. It is ideal for hydraulic and instrumentation tubing in chemical, textile, and pulp and paper industries, and in marine environments.
Ameritube is a distributor of carbon and stainless steel seamless tubing and a variety of alloys used in a variety of processes in the oil and gas, power, chemical, marine and defense industries. Ameritube provides custom tube from ¼" – 3″ outside diameter and .020″ to .100″ wall thickness.
Chemical Composition
| | | | | | | | |
| --- | --- | --- | --- | --- | --- | --- | --- |
| C | Si | Ni | Mn | P | Cr | S | Mo |
| 0.08 | 1.0 | 10.0-14.0 | 2.0 | 0.045 | 16.0-18.0 | .030 | 2.0 -3.0 |