Ameritube has been providing duplex steels to heat exchanger and other demanding customers with a specific focus on quality. Ameritube employees experts all over the world to develop raw material and finished tube sources to ensure the highest quality products are sourced, manufactured both in our manufacturing facilities and those of our partners.
Duplex Stainless Steel offers excellent resistant to corrosion along with very high mechanical strength. With this high corrosion resistance, it provides more uptime than Carbon Steel or Conventional 300 Series Stainless Steels. The mechanical strength of Duplex Stainless Steel allows for lighter fabrication, more compact design and less welding.
The superior performance of Duplex Stainless Steel is due to the combination of austenitic and ferrite alloys in its microstructure allowing achievement of both strength and high corrosion resistance. These characteristics have led to acceptance and growth of their use in Heat Exchangers, Piping Systems and other process equipment.
Ameritube supplies duplex steels in welded and seamless forms with particular expertise in pickling and passivation, heat treating, and large u-bend bundles.
2205 is a duplex (austenitic-ferritic) stainless steel containing about 40 – 50% ferrite in the annealed condition. 2205 has been a practical solution to chloride stress corrosion cracking problems experienced with 304/304L or 316/316L stainless. The high chromium, molybdenum and nitrogen contents provide corrosion resistance superior to 316/316L and 317L stainless in most environments. The design strength of 2205 is significantly higher than 316/316L, often permitting lighter wall construction. Duplex stainless steel heat exchanger tubes perform exceptionally well in a variety of environments and media common in process industries, resulting in lower life-cycle costs.
Duplex stainless steel offers excellent resistant to corrosion and very high mechanical strength. The high corrosion resistance of duplex stainless steel ensures significantly more uptime than carbon steels and conventional stainless steels, while the mechanical strength allows for lighter constructions, more compact system design and less welding.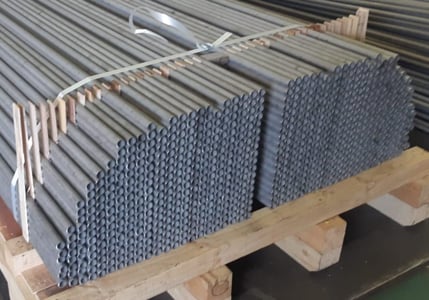 Chemical Composition % of Duplex Steel S31803
Cr
Ni
Mo
C
N
22.0-23.0
4.50-6.50
3.00-3.50
.030 Max
0.14-0.20
Mn
Si
P
S
Fe
2.00 Max
1.00 Max
.030 Max
.020 Max
Balance
Duplex Stainless Steel
Density
7.805
Melting Range,℃
1450 ℃
Elongation %
25 min.
Tensile Strength (Mpa)
655
Yield Strngth (Mpa)
450
Hardness (Brinell)
293 max